group surf lessons seignosse
group surf lessons seignosse | AUTHENTIQUE ECOLE DE SURF | group surf lessons


group surf lessons seignosse : Authentic Surf School offers surf lessons and surf coaching on the beaches of Seignosse, Hossegor, and Capbreton in the Landes, in New Aquitaine, all year round. In summer, we are based on the Casernes beach in Seignosse. This vast and magnificent beach is a natural site, without urbanization, classified Natura 2000. The 5-day week course is the progressive formula that is most successful with our students. This is our Best-of!
group surf lessons seignosse : Adults and teenagers have the same surf lessons. If we have the possibility, we will try to harmonize the groups by putting the teenagers together. We rent all the equipment for skiing: surfboard, wetsuit and bodyboard directly from our cabin on the Seignosse beach Aux Casernes, or on delivery outside the summer holidays.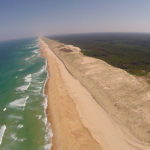 group surf lessons seignosse : Since 2005, our surf school in Seignosse has been the reference for wave and ocean enthusiasts to start or improve their skills in surfing. Open all year round, we offer group or solo surf lessons and courses. Supervision adapted for children, teenagers and adults, families, groups, works councils. We are also specialized in "Handisurfing" for people with physical or mental disabilities.
A surf course is an immersive experience that allows you to learn to surf in a group with qualified instructors. Surf courses can vary in duration, skill level, content and cost, but generally include surf lessons, accommodation, meals and complementary activities. If you are a beginner or want to improve your surfing technique, a surf course can be a rewarding experience that will help you achieve your goals and have an unforgettable experience.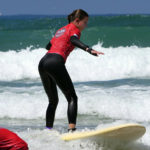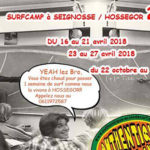 group surf lessons seignosse : From June to September, we will be delighted to welcome you to our surf hut 7 days a week directly on the Casernes beach in Seignosse. The hut offers a place of conviviality around the theme of surfing, in the spirit of the California surf club huts of the 60s. You will also find here Rip Curl neoprene surf suits adapted to the season and your sensitivity to the cold whether it's 3/2mm shorties and integrals for the summer or 4/3 and 5/4mm for the harshest winters.
If you have never surfed and don't know the ocean well enough, we can't advise you enough to go through at least one surf lesson. You will save a lot of time on learning and optimize your safety with the approach and presentation of the environment supervised by professionals. A surf school is a company that offers surf lessons for beginners and experienced surfers. Surf schools can offer a variety of services, such as private or group lessons, courses, surf camps and equipment rentals.


Outside the summer period, roaming and reduced attendance gives us the advantage of being able to choose between Seignosse (https://www.seignosse.fr/), Hossegor (https://www.hossegor.fr/ fr/) and Capbreton (https://www.capbreton.fr/) to enjoy together the best surfing conditions of the day. If you are looking for a surfcamp type formula in Seignosse, we also have several possible options.
group surf lessons seignosse : Surfing lessons for children: P'tites Prawns (from 6 to 8 years old): the younger you learn, the more you acquire for life! 6 years old is the beginning of maturity or the child can begin to join a group surf lesson; below, we will focus on a particular course. The session lasts 1 hour, in groups of 6 children maximum. Instructor Qualifications: Instructors must be qualified and have the necessary certifications to teach surfing, such as surf instructor credentials and first aid certifications.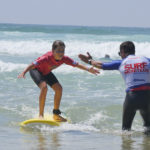 group surf lessons seignosse : Surfing and the joys of the ocean are accessible to absolutely everyone. We offer a wide range of surf lesson packages to meet all of your expectations. So, whatever your age, your level, your condition, your phobia, your handicap, whether you are a beginner or already have experience, you will always find satisfaction in coming to practice with us.
The course of the session is very playful, since it is done from small games, in what is called the garden of waves. This expanse of water, generally at low tide, very shallow where the foam of the waves come to finish their course. It is advisable to come 15 minutes before the appointment of your surf lesson in order to take the time to equip yourself. Dedicate 1h30 of time to the SURF activity. In the event of unfavorable weather conditions (storms or thunderstorms) the session will be postponed or refunded. Discovery lesson: 1h* – €30, Compact course: 3X 1h* – €85, Evolutionary course: 5 X 1h* – €140.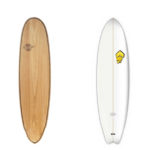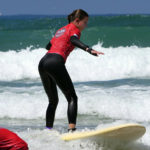 group surf lessons seignosse : Do you want to live a 100% surfing experience? From April 17 to 21, 2023 (Seignosse €690) From May 1 to 5, 2023 (Seignosse €690) From October 23 to 27, 2023 (Seignosse €690) Apart from these 3 weeks of surf camp, from April until in November, the SURF HOUSE is open with a lighter surf program. You will then be able to benefit from accommodation including the mandatory surf course.
group surf lessons seignosse : Whether on the beaches of Waikiki at the beginning of the 20th century Outrigger club, or in California, especially from the 50s to the 70s like on the beach of Windandsea for example, surf clubs were established in beach huts. These were then the epicenter of the local surfing community, where competitions, good tips, parties, anecdotes of all kinds were shared. The history of modern surfing culture was written there…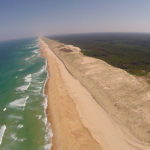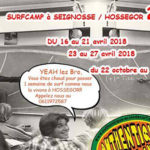 The best time to do a surf course in Seignosse depends on your preferences in terms of surfing conditions. However, in general, the surf season in Seignosse is between the months of April and October. During this period the waves are often larger and more consistent, providing ideal conditions for both beginners and experienced surfers.
group surf lessons : Children between 9 and 12 years old (if an 8 year old child is with these friends or his older siblings, or a 13 year old, with his friends or younger siblings, he can of course join the course) will not ask better than discovering and practicing surfing together. Fruit of our idea Mikaël and Michaël to create a surf school hut on the beach of Casernes in Seignosse in 2005. Date on which, we had our diplomas of Lifeguards and Aquatic Rescuer, and Surf Instructor.
group surf lessons : The sessions last 1h30 effective, as for adults. It is advisable to come 15 minutes before the start of the course. Allow 2 hours for the surfing activity. The session takes place in the foam where you have feet, so you don't necessarily need to know how to swim, even if in general you already know it. The approach in this area is very playful, and therefore offers a first marine experience to the child which will give him confidence in the aquatic environment. Discovery lesson: 1h30* – €40, Compact course: 3 X 1h30* – €115, Evolutionary course: 5 X 1h30* – €160.
Natural site classified Natura 2000, and for good reason. It is the northernmost beach in Seignosse, and the first natural beach north of the Capbreton-Hossegor-Seignosse area, known in the world surfing community as one of the most beautiful surfing areas on the planet. For teenagers, supervision is 24 hours a day. For adults, the formula is "All inclusive" with lunch being a picnic on the beach. In the evening, it's couscous, tajines, burgers, Thai dishes, to be defined together. We release you at the end of the day after having had enough of surfing. You will be independent the rest of the evening. Friday evening: debriefing of the week at the restaurant (included) and organization for the next day's return. And yes, it's over! We have to say goodbye! Saturday: It's over, it's time to leave. JOIN US FOR A 100% SURFING WEEK!
You can rent longboards, malibuses, shortboards, bodyboards, flippers and wetsuits and integrals directly on the barracks beach facing the waves. Depending on your level, your size, your desires, the conditions of the day, a team of professionals will advise you to find the most suitable board for you. Throughout the rental period, you can change and test different models of boards to find the type of surfing that suits you. Barracks Beach is without a doubt, and by far, the most beautiful beach in the Capbreton-Hossegor-Seignosse sector. It is a spacious, quiet beach, which escapes summer overcrowding.